GitBuilding is a python program which turns pages written in BuildUp into a static website (or into plain markdown). BuildUp a markdown extension that is being developed to add metadata about hardware directly into the instructions. This allows a consistent bill of materials to be generated.
Installation
To install (for Python 3.6+)
Note: If you installed python from the Windows app store Git-Building will not work as intended. If you are on windows you should install python or Anaconda. During install make sure you select the box to add python to your PATH
If you wish to contribute to development of Git-Building you can clone the project from GitLab but you will need to build the javascript editor from source. For more information on contributing see our contributing guide.
Once the GitBuilding is a bit more stable we will add a simple way to install and run without using the command line.
Using Git-Building
A Git-Building project can be as simple as a folder with some markdown files in it. To add extra information into these files to allow a bill of materials to be generated we use a syntax we call BuildUp. Git-Building will then process the BuildUp and export the result it in either a plain markdown format
When specifying parts in BuildUp they can have their own BuildUp page, or can be part of a BuildUp part library in YAML format.
It is possible to customise how Git-Building builds the Buildup into plain markdown or HTML by making a configuration file called buildconf.yaml.
Running the Git-Building software
All the commands below assume you have successfully installed gitbuilding with pip.
Starting a new empty project
Open your terminal in an empty folder you want to use for your documentation and run
empty documentation files will be added to the directory.
Previewing the documentation and editing in the live editor
GitBuilding has a built in live editor. Open your terminal, navigate to the folder with your documentation, and run
You can now open a browser and navigate to http://localhost:6178/. This will show the documentation in a browsable form, exactly as it is will be output by build-html (see below). You can also edit the documentation directly from your browser by selecting edit in the top-right corner: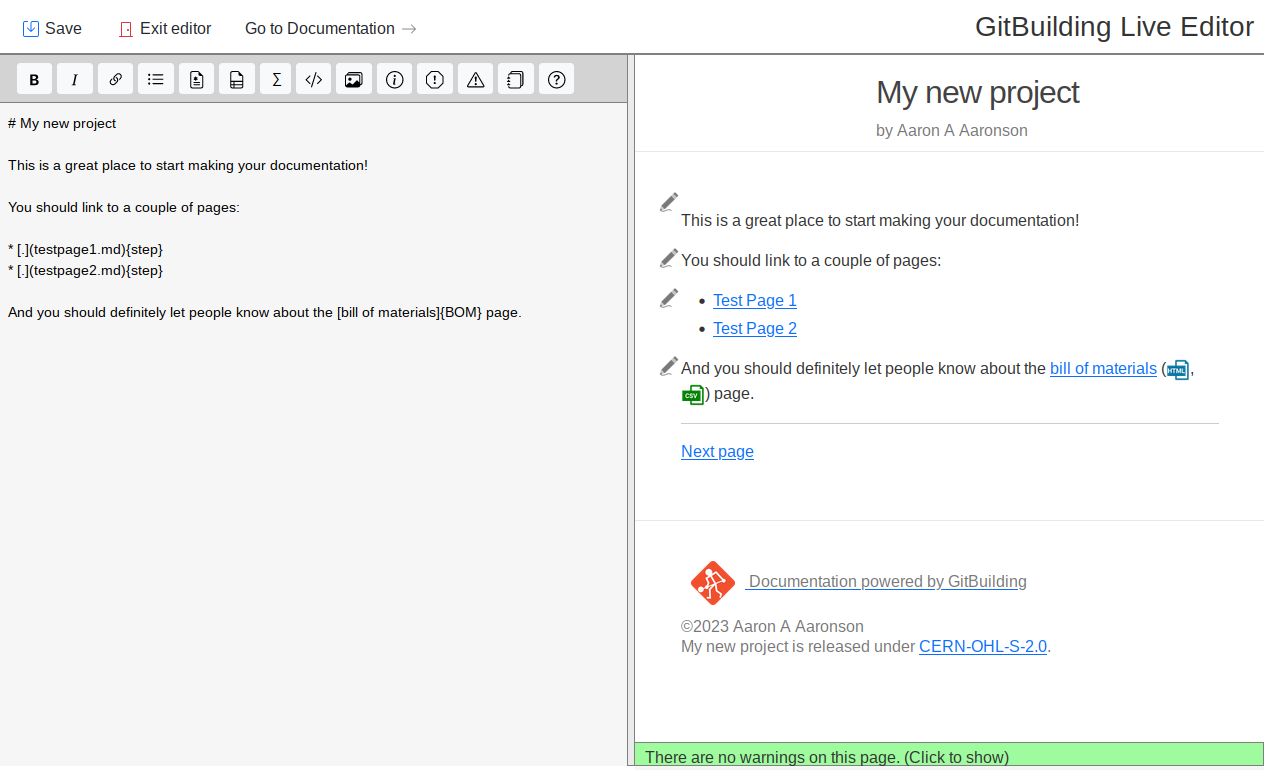 Building to standard markdown documentation
To build the documentation in your current folder run
This will create markdown documentation in the directory _build. This documentation can then be used anywhere you might usually use markdown.
Build a static-html site
You can also use GitBuilding to create a static html with
This will output your an html website into _site.
Getting help
You can get more detail on the command line options by running
You can get help for a specific command with
gitbuilding help <command>

If you still have problems please raise an issue on GitLab.